Montana Marchadors would like to introduce you to the First Generation of Marchadors who were born at our ranch of two imported Brazilian parents. Buying these horses is almost like shopping in Brazil, except you don't have the hassle and expense of importation. You get bloodlines that feature the Tabatinga Farm straight from Tabatinga, and adjacent farms of Santarem and Campim Fin. You get examples of bloodlines that have had 200 years of refinement.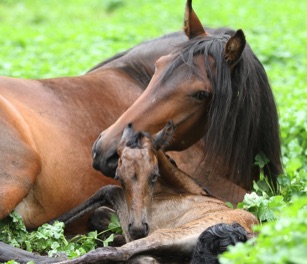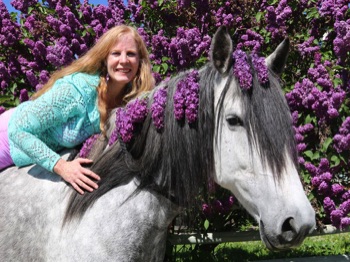 Shannon Ford, one of our First Generation breeders, notes why such pedigrees are important. She selects "a good horse based not simply on the actual horse, but also by evaluating the relatives of the horse, and the patterns present in their pedigree." The patterns present in the pedigree of our horses consistently results in horses that are ATHLETIC, SMART, SENSIBLE and SMOOTH. It is with pleasure I introduce you to breeders of First Generation.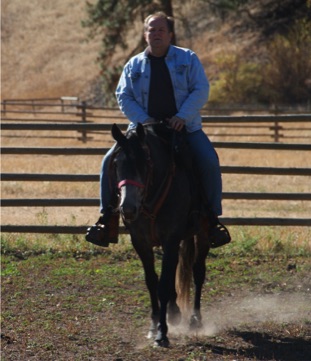 Canadian Mangalarga Marchador Ranch
Proprietors: Shannon Ford and Denis Pelletier
Denman Island, British Columbia
Contact: 250-809-4583
www.mangalargamarchadores.com
Shannon@shannonford.ca
Shannon Ford is an internationally acclaimed artist. She creates and appreciates beauty. So it is no wonder that she has chosen the Mangalarga Marchador to breed at the Canadian Mangalarga Marchador Ranch. But it is not just their physical appearance and beautiful heads that attracts her. It is what is "inside" their heads. She is captivated by their intelligence and temperment. "Extremely Intelligent and Sensible, Kind Willing Nature, Docile, Gentle Temperment" are words she uses to describe the Marchador and why she says they are the perfect horse for her, an experienced horsewoman, as well as her partner, Denis Pelletier, who had little experience with horses,
until they began their Marchador adventure. With 40 years of breeding horses and purebred hunting dogs, Shannon's life experiences have driven her focus on specific genetics and pedigrees.
When Shannon visited Montana Marchador, She immediately bonded with the Tabatinga Line, particularly as represented by our mare Tabatinga Rota, and bought two of Rota's fillys, Rossas Passos de Lazy T and Regiana de Lazy T. Their sire is our foundation Stallion, Tabatinga Monitor.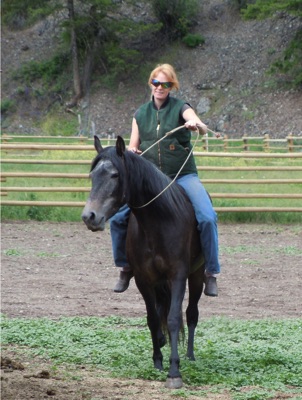 In Brazil at Tabatinga, I had seen over 100 mares, but was still undecided on what to buy. I asked Tabatinga owner, Raul Junqueria, if he had shown me everything. Well, not one. He asked for Rota to be shown. (Rota means Root in Portuguese and Raul wanted to keep this filly as a root for his bloodline.) Out came Rota with an awesome gait and color like a skunk, very dark grey with white stripes. I fell in love with the "skunk" and had to have her even though Raul priced her at three times what he asked for his next highest horse. I now know why. She and her offspring have spectacular gaits and the sweetest dispositions.
Currently, Canadian Marchadors have Rossa Passos de Lazy T, Regina de Lazy T and two sensational progeny of Regina, Canadian Xonada, a stunning filly, and Canadian Regente, a future foundation stallion, a product of Regina and frozen semen from the Brazilan Stallion, Talisma Kafe.
Rossa Passos de Lazy T and Shannon Ford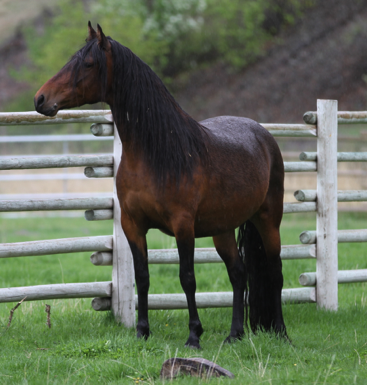 Regina de Lazy T and colt
Dream Catcher Ranch of California
Proprietor: Susan Gabriel
Bonsall, California
Contact: 949-422-5089
sdgab@gmail.com
Featuring Children's Jumpers
When Montana Marchador was importing horses from Brazil, I asked the veterinarian who accompanied them on their flight if he had a favorite. He laughingly said the little orange (buckskin) filly Helga Libertas. Helga used the long flight to nurse and get snacks not just from her mother, Bruana Libertas, but the other Marchadors as well. The importer, who oversaw their quarantine in California, also favored Helga. Helga it seems left her mother's stall and made the rounds to greet other horses in the compound, often "hanging" out with the polo ponies. The van driver to Montana commented on Helga that she spent her road time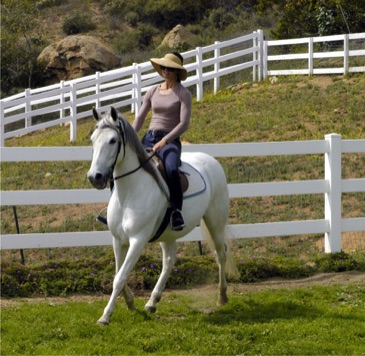 Helga Libertas and Carrie Gabriel Reynolds
taking the blankets off the other Marchadors. Upon arriving here, she went where she wanted. So smart on escaping pastures and opening gates, unless padlocked.
Helga was always people oriented and wicked smart. After being ridden on her first day of training, her trainer asked how many times she had been ridden. "Today was the first time" was my reply. "Unbelieveable" said the trainer. "She is ready for you to ride now. Get on her."
Helga became the first Foundation mare for Dream Catcher Ranch and her offspring, Zeca de Lazy T and Carmella do Dream Catcher have her Smarts and Sensibility.
Susann Gabriel, owner of Dream Catcher, had grandchildren who wanted to ride, so she needed to know if her horses were "kid friendly." Enter Zeca de Lazy T now known as Saint Zeca, who
protected the kids whether on his back or when being led. When the children were leading him, he altered his stride so not to step on the "wee ones." His full sister, Carmella do Dream Catcher, manifested the same gentleness and kindness.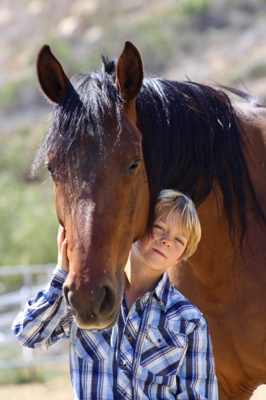 Carrie Gabriel Reynolds, Susann's daughter, was a noted show jumper who has ridden Olympic level Jumpers. In addition to training horses, she also trained children, including her own, how to ride. So it has been no accident that the Dream Catcher horses have now become trained jumpers for children. They are athletic and affable.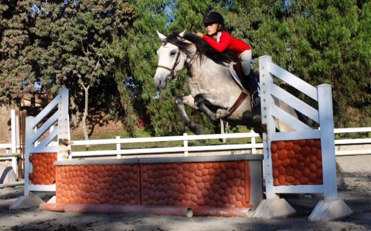 Carmella do Dream Catcher, jumping
In 2018, Susann added another outstanding Montana Marchador to her stable. Astrud de Lazy T. Astrud's mother, Pupila de Itajoana, was known for her smooth gaits and her ability to pass them on to her offspring. At a National Marchador event, Astrud and her full brother, Lo Borges, both won First in their divisions for the Batida Gait. When the Brazilian Judge found out they had the same heritage, he said "You must breed that mare everyday."
Astrud de Lazy T with Kira
At this juncture, Susann's horse herd numbers six Marchadors: gelding Zeca Baleiro de Lazy T, and three mares, Helga de Libertas, Carmella do Dream Catcher and Astrud de Lazy T. Waiting in the wings are two of Carmella's fillys, Gemma do Dream Catcher and Gisele do Dream Catcher, both products of frozen semen from Brazil from the Marchador stallion Arun de Maripa.
Haras Vista da Serra
Proprietors: Dr. Tia Nelson and Derek Brown
9605 York Road,
Helena, Montana 59602
406-475-3770
DrNelson@ValleyVetHelena.com
Featuring Endurance Horses
Rossa Passos de Lazy T and Shannon Ford
Rossa Passos de Lazy T and Denis Pelletier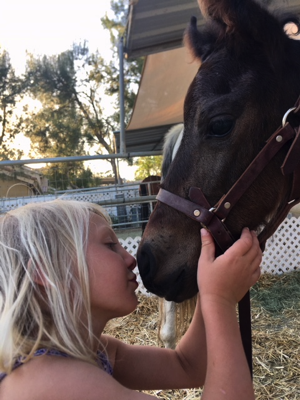 Dream Catcher's goal is to breed more Marchadors who are Childrens Jumpers. Susann's template is the following:
Childrens Horse
•Bomb proof ground manners
•Short 14.2 to 15 hands but have a horse's body and mind
•Fully trained in their intended use
•Easy keeper, good feet and athletic
•Willing to obey children
Childrens Jumper
•Once set maintain speed
•Once aimed at jump find a consistant distance
•No stopping or running out
•No reaction to rider's errors, or speeding up or slowing down
Kira with Gisele do Dream Catcher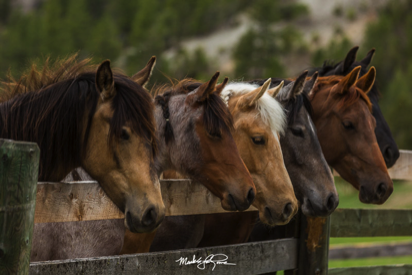 Youngsters at Haras Vista da Serra, photo by Mark LaRowe
Pedro Wernek is a champion endurance rider from Brazil who is a member of the Braziian Pan American team and who competes internationally. His mount of choice is the Mangalarga Marchador. He says the Marchador has a special ability in Mountains and irregular terrain and while Arabians and Thoroughbreds, compete better than the Marchador in flat terrains, the Marchador wins when in the Mountains.
Bethania de Lazy T photo by Mark LaRowe
It is no wonder that Haras Vista da Serra (translated to mean Horse Farm with Views of the Mountains) features endurance Marchadors. This ranch is in the Mountains, surrounded by Mountains, so the horses are at home base when it comes to training.
The stunning setting is matched only by the breathtaking Marchador herd who wander the meadows and the ridges. The back ground reminds one of wild horse terrain, but NOT the horses who mob you and follow you and beg to be petted. Magdi Shatt, former president of the Brazilian Marchador Association, says Marchadors are like big dogs. Haras Vista da Serra is testimony to that fact.
Chico de Lazy T, photo by Mark LaRowe
When you visit this farm, you feel like you are in a candy store, so many appealing and wonderful choices. All colors, all ages and a large selection for sale. I am partial to my bloodline of course.
Representatives of all of the First Generation are here. Tia purposefully choose to select fillies from each of my mares:
Xama de Lazy T from Pupila de Itajoana; Bethania de Lazy T from Brauna Libertas and Nazare de Lazy T from Tabatinga Rota. The farm also has Chico de Lazy T, also a Pupila colt. All of the off spring are sired by Tabatinga Monitor.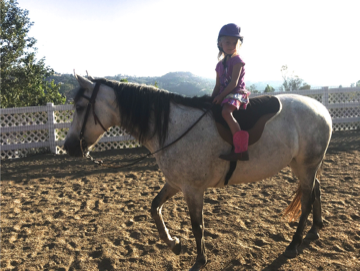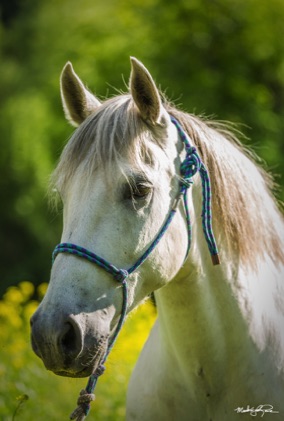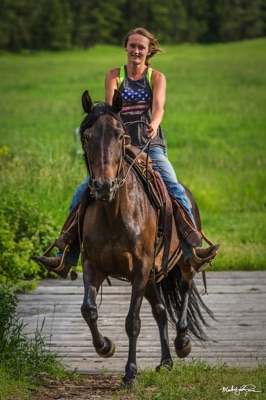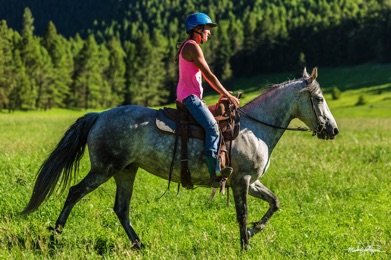 Nazare de Lazy T, photo by Mark LaRowe
Xama de Lazy T, photo by Mark LaRowe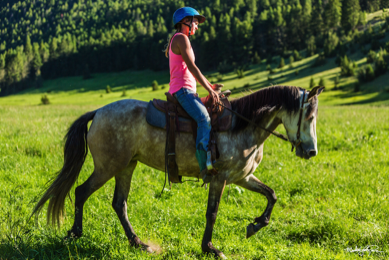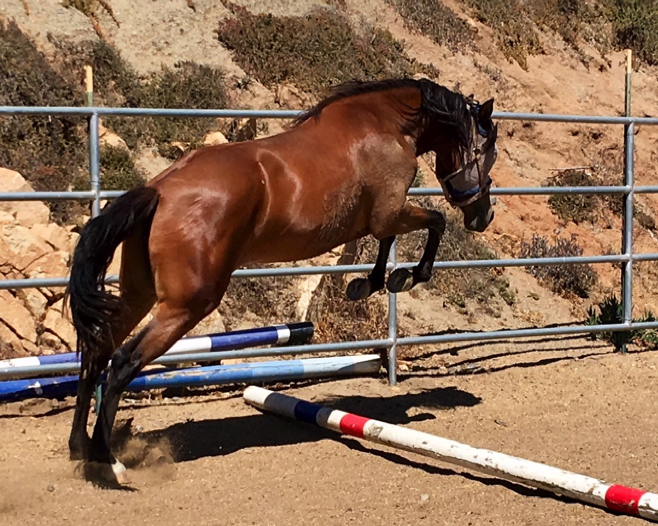 Two year old Gemma do Dream Catcher jumping